Free Shit Friday :: Jonwayne, F!NGERT!P$, Feadz, Caandides, Mills & Duke
February 7th 2014
It's Friday, and you know who's amazing?
That's right: Tina Fey!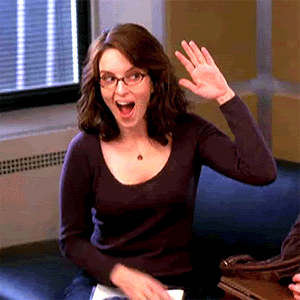 What? Did you think you were amazing just because you made it through five days of work/study without killing anyone?
…Okay, that is pretty amazing. HIGH FIVES ALL AROUND!
Unfortunately, the technology doesn't yet exist to translate a virtual high five into a physical one, but with top scientists on the case, it wont be long.
Until then, I suppose the only thing we can do is let your ears feel this high five of love by giving you some sweet, sweet (and free) music.
This week, you get:
Jonwayne 'Royalty'
Unable to make it onto his album, Jonwayne is giving this rap over 90's video game influenced beats to everyone in thanks for their support. even if you haven't been supporting him and this is the first time you've heard of the man, now's as good a time as ever to get on it and
DOWNLOAD HERE!
F!NGERT!P$ 'Strung Out'
Feeling strung out on the week? F!NGERT!P$ is feeling the same. If by week you mean love and sex. I don't know about you, but that sounds like a pretty good week…
Feadz 'Metaman (Auto Remix)'
Who's up for a rave? It's the perfect thing to do all through the weekend. Sure, you might raise a few eyebrows at work, what with all the glow sticks taped to you and the fact that you're not wearing pants, but what those squares don't understand is that once you hear the beats Feadz is hurling at you in this song (not to mention the cowbell!), there's just no stopping the dance.
Caandides 'Before The Art'

Why are the French so good at pop music? It doesn't seem right that a country so easily conquered can be so strong in the music world. I suppose it's a fair trade really, especially as we all get to reap the rewards!
Mills & Duke 'Diga Diga Doo (JPOD Remix)'
Remix swing? Why not do a new version of The Great Gatsby with a director famous for musicals and over the top visuals?
Oh… right. Well, this is the perfect listen as your on your way to 1920's party &/or
Baxters Inn
.
Culture Guide :: Friday Freebie
Get your weekend started right!
Celebrating the Year of the Horse, Golden Age Cinema will be screening a double bill of films by renowned Chinese director Jia Zhangke and video installations by Chinese contemporary artist Chen Qiulin, and Hong Kong-based video, performance and installation artist Adrian Wong. the Event is a free ticketed event and is curated by 4A Centre of Contemporary Asian Arts.
WHAT: Cinema Alley – Chinese New Years
WHERE: Golden Age Cinema, 80 Commonwealth St, Surry Hills
WHEN: Friday 7th, 6:00pm – 12:00pm
HOW MUCH: FREE
http://www.sydneychinesenewyear.com/festival-program/cinema-alley-at-golden-age-cinema-bar/
Enjoy your Weekend!
<3
FBi