Preview :: Archibald Prize 2013
March 20th 2013

The Archie has been copping a bit of criticism in the press lately, but as people debate how to define good art and the stringency of entry criteria, FBi has released the results of a few, lesser-known categories.
The "Holy f**k, that's a painting?" prize:
Sally Ryan – "Dr Catherine Hamlin AC (MBBS FRCS FRANICOG FRCOG)" 
There's a few sickeningly realistic paintings within this year's finalists, but Sally Ryan's oil painting of Dr Catherine Hamlin AC definitely takes the cake. Despite the criticisms of reliance on photography within Archibald entries, exceptional photorealism, while not my favourite form of expression, is still pretty damn impressive. I mean… the blanket! Don't you just want to bury your face into that soft, beautiful blanket?
—————-
The "I don't know what you're doing, but please don't stop" award: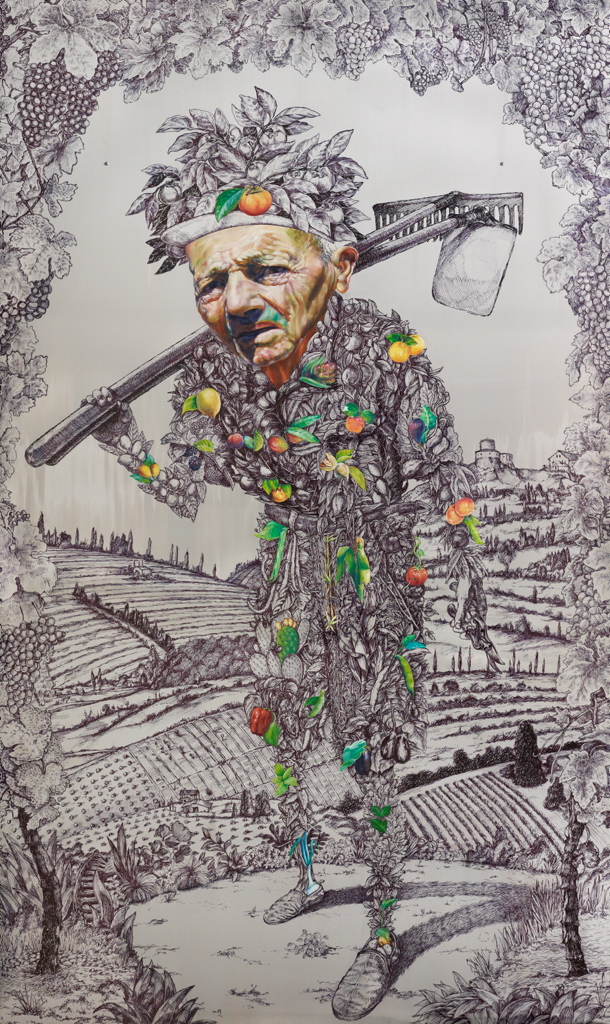 Carlo Pagoda – "Habit de jardinier"
Due to my complete inability to find anything about him on the interwebs, I think Carlo Pagoda is relatively new to the art scene. I for one want more. Peoples opinions will invariably differ and the artist's use of permenant marker within this explosive, collage-like composition has probably got some traditionalists in a huff. Appropriating Nicholas de Larmessin II with innovation and expression; I'm not sure if this is a self-portrait, or a realization of the 'gardener' incarnate. Either way, I'm a fan.
—————-
The "Captain Controversy" award: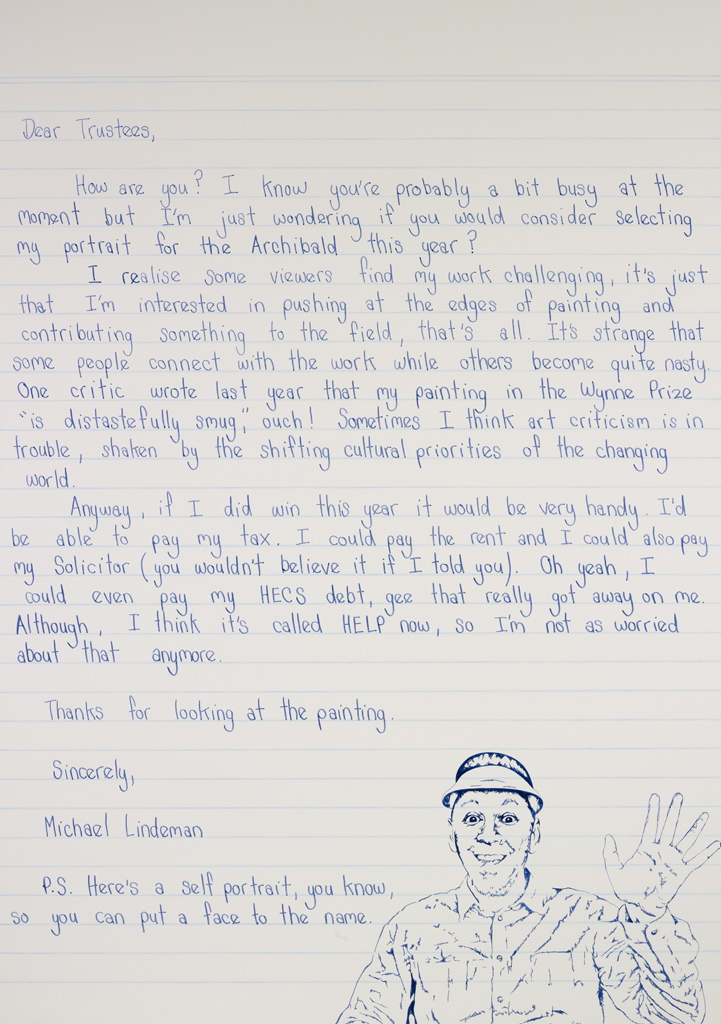 Michael Lindeman – "Dear Trustees (self-portrait)"
Need I say more?
—————-
The "Tortured artist" award:
Imants Tillers – "The Emergency of Being"
Imants Tillers', "The Emergency of Being" is definitely one worth a look. Utilising the country's biggest portraiture competition to question 'the self' and identity is a little bit clever. The text and box tessellation recalls Gascoigne in a work that is highly poignant and thought provocative.
—————-
As a whole, 2013's entries are less gigantic than in previous years. Del Kathryn Barton and Abbey McCulloch stayed reasonably in step with their own previous entries. Sarah Hendy painted Jasper Knight and Jasper Knight painted Adam Cullen. Both worth a look. All issues aside, the Archibald remains an important prize for Australian artists; introducing us to some and reminding us some are still around and making beautiful artwork. There's tension between tradition and the rules of competition, and the nature of art in pushing those limits and setting new ones. But if there wasn't any anger or rule-bending debate, it wouldn't be the Archibald. It would be the Boringibald. And that would be terrible.
The Packing Room Prize was taken out by Mathew Lynn for "Tara Moss".
Winners of the Archibald, Wynne and Sulman prizes will be announced this Friday, March 22.
What :: The Archibald, Wynne and Sulman prizes
When :: Exhibition 23rd March – 2nd June 2013
Where :: Art Gallery of New South Wales
How Much :: FREE